It's been a while folks, it's been a while. So much happened in between, show stuff, babies, weddings, but actually the highlight of my month was compèring the Velvet Burlesque in Sheffield and afterwards being presented with a rather magnificent cock. Those of a nervous disposition, look away now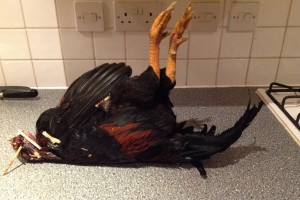 If you've never experienced Velvet Burlesque, let me explain. It's a fabulously unique show run by Helle's Belle aka Lara Gothique, invariably packing out, nay, turning away at the door of Sheffield Library Theatre. Unique because it includes the ladies from her dancing school performing beautifully executed routines. Fabulous because said ladies are every shape and size and really work what they've got (I think I'm a little in love with all of The Yorkshire Puddings, a plus size burlesque troupe that was just waiting to happen. Remember The Roly Polys from The Les Dawson Show? Like that with tassels. Speaking of which, extra special plaudits should go to Helle's Belle herself for carrying on twirling even when both tassels flew off in different directions. Now there's Sheffield steel for you.

Anyway, show apart, one of the joys of VB is staying at Lara's gorgeous farm afterwards, together with a menagerie of adorable beasts including 2 of the furriest Huskies possible (you could have stuffed a cushion with what moulted onto my trousers – note to guests, avoid wearing serge) and 2 bloody enormous Great Danes. These are dogs that could seriously eat you. Oh, forgot to add, I was with two fellow guests, the wonderful burlesque comedienne Crimson Skye and swoonful gentleman strongman Sir Leopold Aleksander, whose immediate reactions to said dogs were slightly different. Crimson was slightly wary at first, although quickly won over. Leopold – straight in. I think he would have slept in their basket if Lara had let him.

So, morning comes, we're still full of homemade curry and wine from the night before, relaxing with a bit of crumpet and a full on vista of the dales in the back garden. Someone suggests we have a gander at the geese, check the chickens, banter with the bantams, etc. Jolly good, all seems well, although some of the hens look a little balder than you might expect. Now these hens have ple-e-enty of room to roam with more square feet each than the average London flat, so it wasn't for want of care. Turns out this rooster had been violently assaulting all the chickens, tearing their feathers out and being a general sex pest. They deal with sex pests differently in the north country so bye bye rooster, hello Coq au vin. And yes I skinned, gibletted and cooked it myself.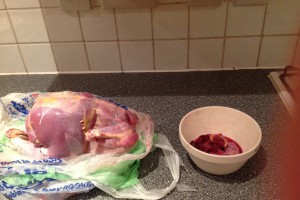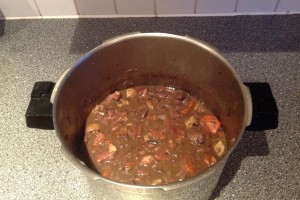 And yes it was an extremely tasty (and fairly hefty) cock. Thank you and goodnight.