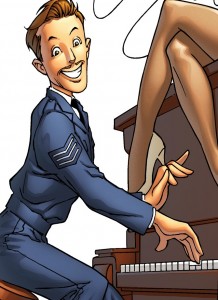 It was inevitable that I try it. Ingo from Bar Wotever asked me a couple of weeks ago to do a set at the RVT, and I blabbed out that that was what I wanted to do before engaging brain. But is there such a thing as a queer singalong? What makes it different from any other singalong? Queer crowd? Queer songwriters? Queer subjects? What's queer anyway?
No idea. Had two weeks to think more about that question before trying to find out the answer using the always willing crowd at Bar Wotever, so at least that solved the queer crowd issue. I asked people for suggestions, and picked out what I considered would be "on message" songs from various eras (I Kissed a Girl, Over The Rainbow, I Am What I Am, Glad to be Gay, Boys Keep Swinging, Girls and Boys), some of which we got round to.
And it worked. Yeah, no twist to that tale, it actually worked. I am amazed every time I do a singalong as part of a cabaret night how much people go for it, even having done a full packed run at the Edinburgh Fringe last year. Think I might be onto something. And Bar Wotever, you were wonderful.
I was hosting the night too and got to introduce some fantastic acts, including singers Miri and Dave The Bear (my DLC for those not in the know), and ballet trockadera assoluta Ragina. Just a brilliant way to spend a Tuesday night.